20.122015
---
We are so proud of our wonderful Make Art That Sells alumni and are pleased to showcase part 10 of the festive designs and products they have created for the season. See all the festive showcase posts here
***
Studio Erdene
I've just designed this greeting card for MATS B paper market assignment. Drawing holiday cookies were so fun and inspiring.
I've taken MATS A and now taking static MATS B class.
I've got so much out of MATS classes. It was really valuable knowing what different markets look for and how to go about submitting works. In terms of making art, I explored subject matters I'd never think of previously. Also, breaking a project down into small steps really helped me. I enjoy doing minis and having a plenty to work from.
In 2016, I want to make a lot of art and start approaching companies. I'm going to learn screen-printing and considering taking Lilla's Home decor class too.
See more of Erdene's work here: Website | Instagram
***
Arrowyn Craban Lauer | Little Gold Fox Designs
A fox lies peacefully sleeping in a bed of winter greenery. This is a print of a paper-cutting. It is an original design in the style of the traditional German art form called Scherenschnitte, or "scissor-cuts." Printed on 100% recycled Kraft-Tone paper which is made from recycled chipboard. The paper is a lovely silver cardstock with light gold fibers woven through. Really beautiful! Can be purchased here
I just finished MATS A and it rocked my world. I didn't realize how much I was missing in not furthering my creative education. I had so much fun, and was really glad to not only connect to people online, but also with several ladies in my city! I really sunk into the knowledge that this is my calling, what I love, and what I'm good at. It really gave me some goals (read envy :) and some confidence as well.
I will be taking MatsC, Bootcamp, and work on the 2 self-paced classes, and well as several Craftsy classes, 2 Atly classes, and an abstract painting class next year. I will be working on creating a solid portfolio throughout the next year. I'm so excited to be investing in my true calling!
See more work here: Website | Etsy | Facebook | Instagram
***
Denise Newberry | CabinPress Studio
6″ round bowl/plate with my Snowman + his favorite bird
I have taken Bootcamp
Simplicity is what I have taken from Bootcamp… in my Letterpress printing designs and now using those designs to branch out and produce wrapping + scrapbooking paper, coloring sheets and the most fun and exciting collaboration to produce 100's of pottery bowls, all made in Colorado—-one-by-one-by-one with Love! More teaching is in store in 2016, invited to the Crested Butte Wildflower Festival to do block carving + printing workshops, YEAH.
See more of Denise's work here: Website
***
Aron Lowe
Needle felted Santa which can be purchased here
I have taken MATS A, MATS B, Assignment Bootcamp.
Taking the MATS classes really informed me about the markets and made me consider which ones my work is best suited for. Also taking the classes pushed me to learn a lot of new things about working with my art on the computer and how to present my work. I have been interested in getting into freelance illustration, but before taking the classes I didn't feel like I knew enough about the industry to jump in. In 2016 I plan on putting together a targeted portfolio to send to a number of the lovely companies that I learned about through the MATS classes.
See more of Aron's work here: Website | Etsy
***
Carrie Chapko
This is a Christmas card I created for MATS B, which I'm currently taking. Lilla talks about joy and how people connect with it in your art. Plus it's appropriate for the holidays, so it has extra special meaning for me this year.
I've taken MATS A, I'm currently taking MATS B and will be starting Bootcamp soon.
I'm continually amazed by the talented artists that I have been able to connect with during class. There is so much wonderful support and inspiration. My art and confidence have come so far since starting MATS A.
I look forward to opening my own shop in 2016 and hopefully illustrating my first children's book!
***
Chandler O'Leary | Anagram Press
This is an original holiday card I illustrated and hand-lettered. The design was adapted from a MATS assignment, and it has become one of my most popular cards! The design can be purchased here

I have taken MATS A and B and MATS Bootcamp, the first time those classes were offered.
The MATS classes gave me a huge leg up on the next phase of my career! I had been looking to break into licensing and find more national clients and opportunities, and MATS taught me how to make my natural style more marketable, as well as so many practical tips and tricks along the way.
Since "graduating" from MATS, I have created many new pieces and licensed them several times over, plus added a lot of new wholesale clients for my in-house stationery line. The next step for me, in 2016, is my goal of finding a wholesale rep for my stationery—MATS has given me the tools, the scripts and the confidence to do it!
See more of Chandler's work here: Website
***
Amanda Williams Galvin | Revel Revel
I've created a line of cards and art prints called Revel Revel that just launched this holiday season. Attached is the image my "folks" notecard set (it is also available as an art print). I created the "folks" art when I was brainstorming about my brand's target audience.  The most important thing I wanted to get across was that my designs were for everyone who enjoyed color and good cheer!  All of my designs start out as hand drawn images and all of my printing is done locally in Massachusetts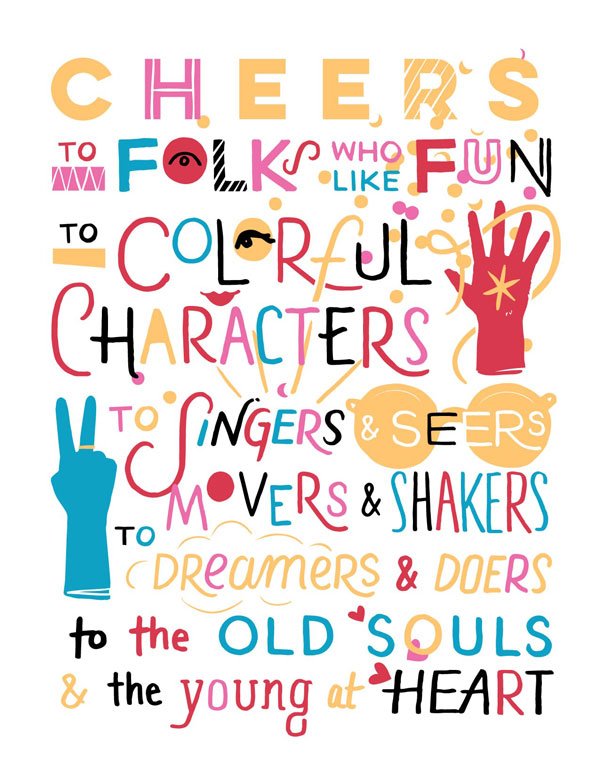 I took the MATS bootcamp in Spring 2015 and really enjoyed stretching my creative muscles
I have been doing commercial work for several years, and MATS allowed me a time and place to refocus on my own artwork and style.  The assignments felt truly reflective of the industry, and the MATS community has given me so much support, inspiration, and encouragement.  I really appreciate the opportunity to be a part of the virtual global art gathering :)  I look forward to expanding my line to include some printed fabric products in 2016.
See more of Amanda's work here: Website
***
Daniela Glassop | DGD Creative
I have a 2016 calendar tea towel design on Spoonflower available for purchase. Beehive is the name of the design as it features a lady with a beehive hairstyle that is decorated with many flowers, that are around her and in her hair. The fabric I recommend that they be printed on is linen cotton canvas. My aim was to produce a decorative tea towel that would be lovely as a decor item as it's primary purpose and would also make a beautiful gift, especially for friends that are difficult to buy for.
The MATS classes I have taken have been MATS A, MATS B, MATS Home Décor, Bootcamp in 2014 and 2015 and the Global Talent Search during 2014. The classes have helped to push me to create illustration and design quickl,y which has also helped me to develop my style, something that I had been struggling with.
The classes have also helped me to be confident about the quality of my work which has been so good for me after not feeling supported in my previous employment. My portfolio needed new work in it to represent the new direction I want to move into and the MATS classes have been perfect for that. MATS also helped me to meet other like minded creative people who have become firm friends that I can rely on for friendship and support.
MATS classes have made a massive difference and helped me to stay focused over the last two years as I build my art career doing what I love.
See more of Daniela's work here: Website | Instagram | Facebook
***
Transform your art career and Make Art That Sells. Registration is open for  Creating Collections for Home Decor (starts 25 January, 2016),  Assignment Bootcamp (starts March 2016) and our amazing self-paced versions of MATS A & MATS B which include a huge vault of reviews from Lilla and class assignments from all our previous sessions.