28.92016
---
What an incredible journey! Lilla Rogers Studio loved getting to know the six finalists on Skype and thoroughly reviewing their bodies of work. After much discussion and reflection we are delighted to announce…
…the winner of our 2016 Global Talent Search is Marenthe Otten!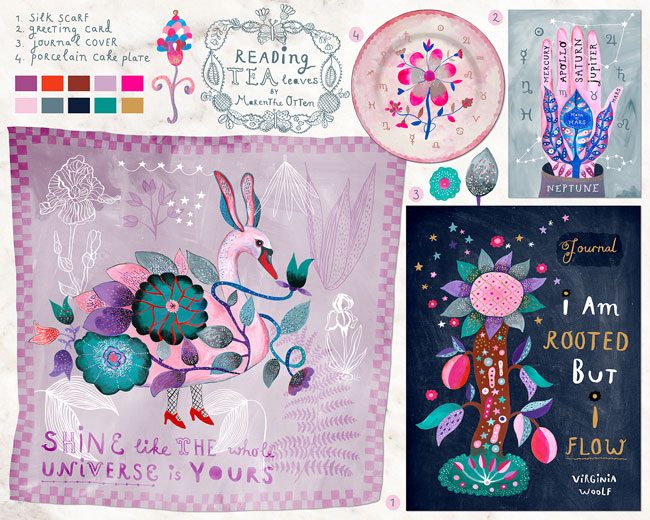 Above: Marenthe's final assignment for the Global Talent Search. On the Skype call, Lilla suggested that Marenthe not hold back and go full-on Marenthe.

Giant congratulations to the lovely Marenthe! She is a true original, an iconoclast. Lilla loved how fearless she is in creating her magical world. Because of this, and her broad range of imagery and themes, you'll see a career that will have longevity and breadth. In addition, Lilla liked that she had been a successful designer for many years so she understands how to work professionally and collaboratively.  Lilla Rogers Studio is excited to develop original projects with her as well. Lilla has a few up her sleeve.
Marenthe on Skype screenshare and her study for the final assignment
Plus, she's a lovely person. You'll fall in love with her!
Lilla Rogers Studio is delighted to now represent Marenthe and can't wait to fill her docket with commissions, licenses, and consultations with VIPs. Read more about the prizes Marenthe has won here.
***
Congratulations to the two Special Studio Award Winners!
Terri's pieces for the final assignment for the Global Talent Search
Lilla Rogers Studio is madly in love with Terri's witty and colorful art. Everyone smiles when they see her work. She's frequently been in the highly-regarded juried annual, American Illustration. Her work runs from highly sophisticated wit to funky/adorable. Lilla Rogers Studio are thrilled to add her to the agency.
***
Anne's pieces for the final assignment for the Global Talent Search.
Meet Anne, the delightful sophisticate. As a matter of fact, the Boston Globe commissioned Anne right from the newsletter Lilla Rogers Studio sent out announcing the 5 Finalists! And here is her piece that she completed—right smack in the middle of the GTS final competition. Anne's background in fine art is evident in her work. Her unique color palettes, along with her masterful renderings of individuals in stylish settings won us over. Like Marenthe and Terri, Lilla delighted in watching Anne's work blossom in the MATS e-courses.
Anne's stunning piece for the Boston Globe
 Congratulations, GTS 2016 winners!
And a big congratulations to all the Finalists: Colee Wilkinson, Mara Penny, and Sharon Montgomery. This is a very intense and demanding competition, and to arrive at the Finals is a massive honor. It's something to be proud of. Please know that our decision was a very difficult one, involving many considerations. Your work is excellent and we are confident that your careers will thrive.
Read the full GTS announcement on Lilla Rogers Studio HERE.
***
All of the finalists have taken our MATS online classes! You should, too. Why? Because you can energize your career the way these artists have. Because of MATS, Lilla Rogers Studio can get these winners tons of work. Even the artists that are already represented by Lilla Rogers Studio take the classes, and they receive fantastic gigs from the work they do in classes!
***
Currently open for registration
Would you like to experience the Make Art That Sells classes yourself? Our MATS A and MATS B self-paced classes are open for registration here. Sign up today for instant access.
Graduates of our courses have gone on to win work from clients such as Hallmark, Robert Kaufman Fabrics, Oopsy Daisy, Uppercase Magazine, West Elm, Midwest CBK, and more. It is industry learning that works in the real world. Find out more HERE and start today!
***
Our October session of the 'Illustrating Children's Books' class is SOLD OUT.
Do you dream of illustrating a children's book?
Join the waiting list here to hear when registration opens again!
Save
Save
Save
Save
Save
Save
Save
Save
Save
Save
Save
Save