17.122016
---
Happy Festive season! We are so proud of our wonderful Make Art That Sells alumni and are pleased to showcase some festive designs and products they have created for the season. Here is part 8. See all the festive showcase posts here as they unfold.
***
This is a Christmas card designed with my illustration "Fairy on the Christmas Tree"
I took MATS Bootcamp 2015 and MATS Bootcamp 2016 and I am following all the freebies and small assignments Lilla is giving for inspiration.
Classes and Lilla's advice on her blog and periscope helped me focus and realize how this "job" I have chosen to do for the rest of my life is the most amazing thing that have happened to me. The advice I am getting from her classes and from the community of artists on our Facebook group page are precious. Through the constructive feedback for your work but also for work from other artists, one can learn more quickly what is working and what is not. For me is also very important to be able to get the information about the styles, icons and colors clients are looking for at the moment.
See more work: Facebook | Blog | Instagram
***

8 -Holiday cards– blank inside– in a clear plastic box– tied with a ribbon $20 OR 5×7 $38 or 8x 10 giclee both in black metal frame $55
I have taken MATS A, MATS B, MATS Bootcamp, & MATS Home Decor
The classes have helped me with my color choices I use in my art. I used to not think about it, but now I am more aware.The classes has helped me think more about my lettering and how to incorporate that element into my piece. I feel like I'm heading in another direction with my art and finding I really like colored pencil—and still mixing paint or markers in creating a piece. I'm also finding I love to write and make up quirky stories and have this also as an element in my art and think 2017 I will incorporate more of this in my art.
See more work here: Website
***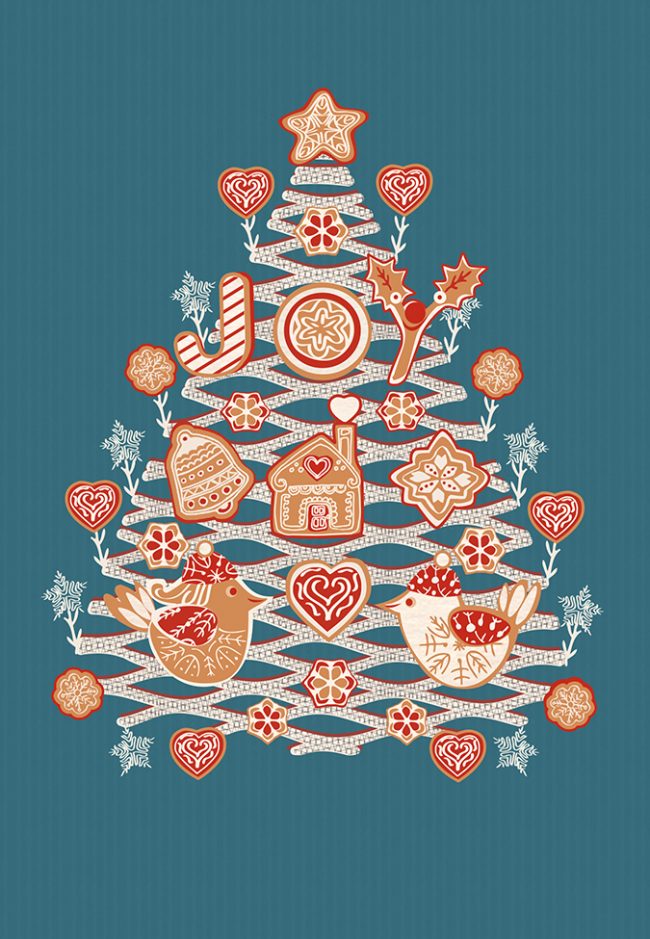 This postcard "JOY" is inspired by Holiday cookies and was a lot fun to create. The tree is made from a mesh and all the other icons were hand made and then digitalized.
This year I have taken MATS A and MATS B classes, and I took part on GTS. Lilla Roger's art classes have helped me to stay motivated in creating more art and to rebuild my portfolio.
In 2017 I am planning to take a Bootcamp class and I would like to focus more in children apparel and home decor, but I open up to any other markets.
See more work here: Website
***
Molly Schafer | Feral Pony Illustration

This is an illustration of a happy snow-family out for a stroll in the snow. I wanted to capture the joy and happiness a child can bring to a family along with the excitement of a snow day! I have taken the first -ever MATS A back in June 2013 and Assignment Bootcamp.
What I've learned in Lilla's classes continue to help my artwork evolve. In 2016 I've been focusing on personal projects that let my unique style shine and experiencing the joy of creating. And in 2017 I plan to fully realizing this by creating on my own comic books- something I have always wanted to do!
See more work here: Website
***
Emma Evans | icklewitch-illustration

My festive inspired piece – Christmas Vicuña
I took the mats bootcamp in March this year, I am a graduate in surface pattern design but I needed help to kick start my creativity again! Mats bootcamp was amazing it has gave me back my confidence, I learned a lot developed my skills and met some lovely people along the way. So much so I am already enrolled again for March and can't wait.
See more work here: Instagram
***
Transform your art career and Make Art That Sells. Registration is open for Illustrating Children's Books (starts 16 January, 2017), Assignment Bootcamp (starts March 2017) and our amazing self-paced versions of MATS A & MATS B which include a huge vault of reviews from Lilla and class assignments from all our previous sessions.
Save
Save