9.52017
---
Lilla often gets asked what makes an artist stand out.
Her favorite answer is 'What makes you weird makes your brand special!' What? It's OK to be quirky, an oddball, different from everyone else? YES! In fact, more than OK, it's important, and it's what will set you apart. Check out Lilla's free video series to find out more.
In this free series Lilla shares…
Why it pays to be different/weird/quirky
How to identify the differences that you can use to your advantage in your art career
How to take those quirks and make them your signature
How to attract mainstream clients with your quirks, not put them off
Other tips on monetizing your quirks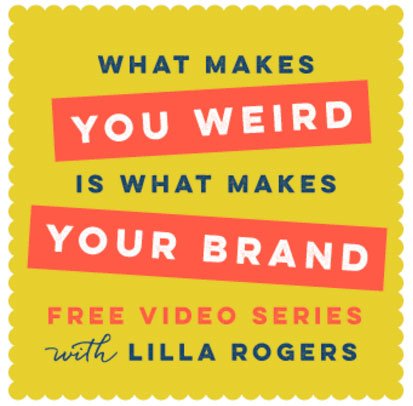 Watch the 3-part video series HERE
Now's the time to sign up for our popular Make Art That Sells e-courses because Lilla will do a LIVE REVIEW in our self-paced MATS A and MATS B classes in June! The assignments that Lilla will review were just announced. REGISTER HERE.
Maximize the amount of time you'll have to work on your piece. Sign up now to get INSTANT ACCESS to these juicy assignments. Get your art in front of Lilla and have a chance at getting it reviewed.

For a chance to be in Lilla's review you must submit your work by June 7, so sign up for MATS A here and MATS B here to get cracking!
You'll also have access to a huge vault of minis, assignments, and previous review videos PLUS you'll find out about the LIVE REVIEW assignment and all the details about how to take part.
xo, The Make Art That Sells team