15.82017
---
We are so proud of our Make Art That Sells Alumni, and we are pleased to feature a series of spotlight interviews showcasing their successes and artwork. We've asked them to share how the MATS courses have helped them learn and grow. You can see more Alumni Success stories here
Today, we have a special guest post from MATS alumna Bryony Clarkson who recently exhibited at Surtex with the Art Collective she is part of called Finch & Foxglove. Bryony is sharing her review and some top tips! Bryony has taken MATS A and B, Home Décor, Illustrating Children's Books, Bootcamp and attended the MATS Global Gathering.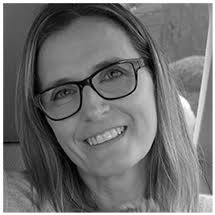 About Bryony: I live and work in Oxford, England, but also spend a lot of time in Seattle, USA. My studio companion is a 3-year old Wheaten terrier called Crumble. I have three children, so life is busy! When I'm not drawing, I love to read, walk or run with my dog and travel whenever and wherever I can. I trained at the Royal College for Art in London, graduating in 1996 with a masters degree in Embroidered Textile Design. I went on to design textiles for many companies, both interior and fashion, as well as producing my own range of one-off textile pieces. I took a career break when my children were born and started designing again in 2011, with a focus on paper and digital pieces for Surface Design.
How much preparation did it require?
I have been making art for years, but in terms of specific show preparation, I started designing with the Surtex Show specifically in mind in September 2016 – nine months before the show. I am a member of the Finch & Foxglove Art Collective, and we map out a schedule for the months leading up to the show, so that we don't get too overwhelmed, or have tasks left to the last minute. I can't stress enough how super-helpful that planning was.
How did the show go? Did you get out of it what you hoped you would? Any successes you can share?
The show was a great success! It was my first time exhibiting (I have been with Finch & Foxglove for two years but I couldn't show in 2016, due to my daughters ill health) and it was a roller-coaster ride of an experience. Our booth was really busy at times and I connected with some of my dream companies, as well as making lots of new contacts. I received alot of interest in my work and there are some exciting projects in the pipeline. Straight after the show, I licensed some designs, as a direct result of a show contact, to a large stationery and greetings company.
Finch & Foxglove at Surtex
Who did you meet – other exhibitors / visitors / brands?
I met two of my fellow artists from Finch & Foxglove for the first time: Sharon Montgomery and Laurence Lavalee. We 'talk' most days on Facebook, so it was amazing to meet them both in person, as well as getting to hang out with members of the group that I have met before. I met lots of other artists – many of whom I already know through Instagram, and it was great to connect with a wider circle of creatives.
Visitors to the booth could be broadly divided out into art directors and buyers, and other artists or those coming to walk the show. There were some really big-ticket companies that came to talk to us, mostly from the USA and Canada.
What will you do differently next time, will there be a next time?
I've already committed to showing with the Finch girls next year! We are also talking about whether there are other trade shows that we might want to do.
One of the huge take-aways from the show for me was that it was a great opportunity to listen to what buyers needs are. This is invaluable information and will help me to plan my future work. It was interesting to hear comments like "I love this, but we couldn't use it" or "I'd need to see that in a different colour palette for my clients". These aren't negatives, they are free tutorials! I noted down much of this information so that I had it for reference after the show. Next time, I will specifically plan my Surtex portfolio with this in mind.
How do you follow up with potential opportunities after the show?
Quickly! I responded to the companies who showed most interest two days after Surtex had finished. The others I followed up on during the following week. We had made thorough notes on what each potential client wanted to see, so it was then easy to follow up via email, sending low res images of the work that they liked.
Any tips for surviving and thriving on the day itself?
Don't let the nerves take over! Selling your artwork can feel very personal, but you are your own best advocate. Just chat with everyone who stops by the booth. As conversation unfolds, you can get a good feel of what each person is looking for. The more you chat, the more you learn!
And get in a business frame of mind. Remember that you have a fantastic window of opportunity to show and sell work to top retailers and manufacturers – it's very different from being in the studio, so be ready to step up to that role.
What are your 3-5 top tips for exhibiting at a show for the first time?
Get organised. Make a timetable to cover the preceding few months, working out when you plan to have each item ready, and stick to it as closely as you can, to avoid last minute panics!
Show work you are proud to stand in front of. You will be talking about that work A LOT, so really show the things that you love. Be brutal when you make a final edit of your designs before the show, and take out anything that isn't your best. Quality is more important than quantity.
Connect with other artists who are showing if possible (through the MATS Facebook pages, Instagram etc) – I found this to be a welcoming and generous world, where more experienced artists were very happy to share information and answer questions.
Now the show is over, what's next?
Oh wow, lots….! The post show time is as busy as the pre-show, with follow up. Workwise, I am going back to the sketch book a lot, and using this a time for experimentation and generating new ideas. I use the Summer as time for a more relaxed pace of working and letting new ideas germinate. I also need to spend some time with my rather neglected family!
What other trade shows would you like to exhibit at and why?
As a group, we are considering Blueprint, Printsource, Heimtextil and Premier Vision – no decisions yet though, except a repeat showing at Surtex next year.
How did MATS courses help you?
MATS got me into the habit of making new art every day (even if only a 10-minute sketch) and got me back into being absorbed in the world of art. I also learned how to keep true to my own style, but to ensure that I was making art that is desirable and useable by art directors. I learned fun new ways to create colour palettes, how to use icons to my advantage in my work, how to design and template for product, how to develop characters and SO much more! And importantly, I met my fellow Finch & Foxglove artists at the Global Art Gathering.
Did you show any of your MATS assignments? 
I did my MATS classes quite a long time ago (I was in the very first MATS A and B), so I didn't actually show much from that time, as I had a ton of new work to show. My vicuna is a particular favourite that came from MATS Bootcamp and the Lumberjack icons piece (also shown above). And everything I do now is influenced by the ton of information that I got from the courses.
Reine from Lilla Rogers Studio interviewed Finch & Foxglove and others from Surtex.
Click here
if you missed that great feature!
Lilla also shares her top tips for Preparing for a Trade Show
here
***
Would you like to experience the Make Art That Sells classes yourself? Browse our live and self-paced classes here
Graduates of our courses have gone on to win work from clients such as Hallmark, Robert Kaufman Fabrics, Oopsy Daisy, Uppercase Magazine, West Elm, Midwest CBK, and more. It is industry learning that works in the real world. Find out more HERE and start today!