Course dates: May 23 - Jun 27, 2022
Illustrating Children's Books 2022
£399

/

$544 (approximate)
In five weeks, you'll create a brilliant children's book pitch to help you land your dream children's book gig. You'll get over 20 videos, weekly assignments, live weekly video reviews, interviews with publishers and illustrators and more. Co-taught by top art agent Lilla Rogers and highly-respected children's book art director Zoë Tucker.
Serious about a career in children's book illustration? Want to start landing illustration jobs? Sign up for our popular Illustrating Children's Book course!
Want more info? Just scroll down!
*USD values are approximate
My Year of Art School 2022 (ALL courses) Bundle
£2559

/

$3,491 (approximate)
---
See what's included
My Year of Art School 2022 (LIVE courses) Bundle
£1479

/

$2,018 (approximate)
---
See what's included
My Winning Children's Book and Toy Pitch Bundle
£955

/

$1,303 (approximate)
---
See what's included
My Art Career Starter Pack Bundle
£409

/

$558 (approximate)
---
See what's included
Top 10 Markets Bundle 2022
£440

/

$600 (approximate)
---
See what's included
Top art agent Lilla Rogers and highly regarded children's book art director Zoë Tucker provide everything you need to launch your children's book illustration career or bring it to the next level. Through this step-by-step, supportive and engaging five-week online course, they will help you create a brilliant pitch and also give you all the tools, insight, and advice you need to succeed.
Image by MATS student Ana Berger
You'll get:
Zoom Live broadcasts from class!
Your choice of one of three carefully-chosen texts for you to illustrate. This will give you a structure for the course, and allow you to dive in instantly.
Fifteen in-depth videos with Lilla and Zoë on every aspect of the creating and pitching of your children's book, growing your creative business, and Lilla's art technique demonstrations
Interviews with top art directors and successful illustrators. We ask them everything you want to know.
Lilla's inimitable style of teaching which will motivate you to create your best work in your own unique style
Access to Zoë's many years of experience working with artists on some of the most successful children's books on the market
Carefully structured weekly assignments that build your pitch in a highly effective step-by-step approach
Fun downloadables to hone your skills, style, and commercial potential
A ton of bonus content on pacing, trends, what Art Directors look for in a character and more
By the end of the course, you will have your own distinctive pitch presentation ready to send to clients (which includes character sheets, a gorgeous double-page spread and a show-stopping front cover, based on a text provided in class).
You will also have all the insider knowledge you need to identify and approach clients and then work with them in a professional way once you have secured the gig. And you will do all of this in the company of other like-minded artists from around the world in our supportive class community.
Double spread page by student Fay Ford
Why have we created this course?
Because sales of children's books are booming! Revenue from children's books sales  is booming , consistently hitting over $2 billion according to the Association of American Publishers. Even in this digital age, consumers want the high-touch experience of an actual book. Art directors are on the lookout for artists!
We know that artists love illustrating children's books. It's magical to sink into a project for months, creating their own signature characters and world.
Zoë and Lilla have each had great success in this area and were excited to develop a course together. Both of them regularly work with artists and so they understand how to get the best out of creative people. Together they will give you everything you need to get work in this lucrative and creatively rich area, branding yourself in your own style.
Double spread page by student Katy Halford
Lilla says, "We wanted to teach a children's book course because picture books texts are so rich emotionally and visually, plus they offer opportunities for a multitude of artists' styles, from witty to painterly to graphic."
As an agent and art director, they know what art directors want! Lilla has assigned tons of children's book commissions with top international publishers to the artists she represents, and Zoë has worked with some of the top illustrators in the business today. So they know exactly what art directors look for. They have created a course that will you everything that art directors seek from a children's book illustrator, including:
Drawing compelling (and consistent!) characters in your style
Showing characters in action
Using accessories, colors, and props to help tell the story
Designing a world that enhances the reader's experience
Illustrate character emotions in fresh ways
Understanding the role of pacing to engage the reader to turn the page
Using hand-lettering as a key part of the visual appeal of the book
Using color to enrich the emotional experience
Double spread page by student Petra Hämmerleinova
MATS: Illustrating Children's Books will give you ALL of these tools and skills, as well as showing you how to pitch your work to art directors to land that dream illustration gig. It's all here for you, ready to help you launch or supercharge your career as a children's book illustrator.
Not only will you learn how to create a fantastic children's book pitch, but you'll have learned a ton about the process itself so when you land your children's book gig, you will have the tools to actually do a great job!
Front cover by student Marusha Belle
You'll create a complete pitch presentation ready to send to publishers and art directors, including a front cover and more!
Illustrating Children's books
Do you dream of illustrating a children's book? Would you love to create a magical world with characters that you've designed? Do you love the magic of children's books and feel that you have something to offer? Then this course is for you.
Lilla says: "We've created a course that breaks down the process into totally manageable chunks so that you can focus on having fun creating your very best work. I know you'll be surprised at how much progress you make over the course of the 5 weeks. I've seen it over and over in my courses".
Illustration by MATS student Allistair Burt 
To get you started, right off the bat, you'll select one of the three texts provided in class, to illustrate over the five weeks. This way, you don't need to waste time hunting around for some text to illustrate!
To make it really easy for you, we'll provide a guide to selecting which text is right for you. It's based on your personality and art style. Next, you'll get guidance on how to analyze your text, so that you have a deeper understanding of it—its characters, the world, the motivations, secondary characters, the visuals that you could draw, and more. You'll get to know and love your main character and its world. And this is even before day one of the course!
Then, we're ready to begin. We've broken the course down into five themes, one per week. Even though we cram the course full, we make it unintimidating and as easy as possible for you to learn and succeed.
Illustrations by MATS student Katie Mazeika (above and below)
Your assignments are based upon what you learn each week, which is:
Week 1: Character
Including:
How to develop your own fabulous character in your own style
The secret tool of using accessories to illustrate your character's personality
What art directors look for in a character. How to draw a character in any style
Week 2: Emotions
How to illustrate emotions through facial expressions
Tricks to show expressions using the eyes and eyebrows
How to make the reader connect
Week 3: Poses
Tricks and techniques to illustrate your character in a variety of poses, for those who can draw the figure well to those that have a less literal style
How to keep your character consistent throughout the book
Supporting characters
Pacing your story so that the reader is eager to turn the page
Week 4: Environment
How to design a special world for your character
How to use color and props in the scene to enhance the mood of the page
Use of different media to enhance the environment
Week 5: The Cover
How to use lettering to rock your cover
What must go on your cover
Top tips for designing a cover that sells
Double page spread by MATS student Kirsti Davidson
How will you learn all of this awesomeness?
We'll teach you through videos, written posts, hundreds of images and a host of gorgeous worksheets
Interviews with top artists and art directors will offer even more insights
Your private Facebook group will be a source of support from like-minded students
The weekly art review video with Zoë and Lilla will be a chance to learn in real time from work chosen that week
You'll be able to submit your own questions to Lilla and Zoë each week
The course has been designed to give you everything you need to launch (or supercharge) your career as a children's book illustrator with more than 20 videos including:
ILLUSTRATION covering each aspect of illustrating for children's books, with supporting tips, advice and a ton of visual reference sure to inspire you (x5 in-depth video lessons with Zoë and Lilla)
PITCHING covering an overview of the industry, how to present and pitch your work, and how to work with clients once you have landed the gig (x5 in-depth video lessons with Zoë and Lilla)
ADVICE FROM LILLA covering hot topics for artists looking to grow their creative business (x5 pep talks from Lilla)
FUN ART TECHNIQUE VIDEOS covering a variety of techniques to freshen up your work (x5 videos with Lilla)
Artwork by MATS student Katherine Quinn
You will also get:
Three different texts to work from (you will choose one for the class but can use the additional two for future development work)
Five mini assignments and main assignments per week
Weekly video reviews by Lilla and Zoë featuring a selection of classwork—many students say that this is the highlight of each week—loaded with even more tips and pointers
A set of technical notes about how books are created, to give you savvy when working with an art director
A series of 'Art Director's Cheat Sheets' giving you vital info on how to impress an art director
Access to interviews with leading industry professionals—we ask them everything you want to know
Brand building and marketing top tips
The opportunity to ask Zoë Tucker and Lilla Rogers anything you like during the five weeks of class
Access to a private community of like-minded artists who are on the same journey as you are
Daily sketchbook prompts to encourage you to strengthen your drawing ability and range of subjects matter
A host of bonus content, from drawing games to tips, worksheets and checklists to help you progress
By the end of the course, you will have a full pitch presentation ready to send to clients, including a character page, a double-page spread, and a front cover, based on a text provided in class.
Full page spread by MATS student David Partington
The highlight of each week is the big assignment. First, Lilla and Zoë ease you in with a mini assignment each Monday, which is simply a fun and unintimidating warm-up, and then you build on that when you get the main assignment each Wednesday. Your deadline for the art is Sunday. Deadlines are a powerful thing! They are your friends! They get you to make art in the allotted time. The weekly reviews are the added incentive to submit your work by Sunday—you might be selected for the review which airs a few days later!
Some of the topics we cover:
How to woo an art director
Whose door to knock on and what to put in your email
Having the guts to send your pitch
What art directors look for in characters
Trends in children's book publishing
Industry lingo
A reading list of inspiring children's books
What to do if you don't connect with the manuscript
Do you need an agent?
A brief analysis of hand lettering
How to build your profile as a children's book illustrator
Illustrating your own children's book
All about your website
Social media for children's book illustrators
Contracts and finance
Full page spread by student Cass Urquhart
If you have a question about Make Art That Sells please check these Frequently Asked Questions (FAQ) first. If you do not find an answer to your question here please feel free to contact us at [email protected].
Q. I've never taken an online class before. How does it work? Do I need to be at my computer at a certain time?
A: The e-course takes place in a gorgeously designed password-protected private classroom right here on this site. There is a separate classroom for each course, divided into lessons. Over the course of the five weeks, while the class is live, lessons will be made available throughout the live period of the course. You can tick off each class as you complete it to keep track of your progress.
The main creative assignment will be set each Wednesday, with a submission deadline of Sunday if you want your work to be seen by Lilla and Zoë. A critique/feedback session will then be shared in the classroom the following week, highlighting work from several members of class. (Don't be scared! This is an awesome opportunity to get your work in front of one of the world's top art agents AND a renowned children's book art director – and we are talking about real world how-to-get-your-work-sold valuable and confidence-building critique, not soul-destroying art school critique! We are all about positive feedback.)
The beauty of an online course is that you can check in whenever you like and do not need to be online at a specific time as the content will be available 24/7, so it does not matter what time zone you are in. You can log on every day if you choose, or set aside some time once or twice a week to work through it. There will also be a private Facebook group where you can connect with others and share images of your work.
The written content in the class will be downloadable and you will have access to the classroom for six months after the end of class so you have plenty of time to go back through everything at your own pace. The Facebook group will remain open indefinitely.
Q. What format is the class taught in?
A: The class is taught using video, written posts and a huge amount of imagery. Everything is made available in a bespoke, password-protected private classroom. There are weekly assignments as well as a handful of additional creative exercises in the course. The big event is the weekly LIVE review, where teachers Lilla and Zoë will review a number of the artwork submitted – maybe yours! – as well as sharing their tips and insight, and when you'll also be able to add comments and ask questions.
Q: Do I need to have a drawing tablet or be able to create digital illustrations for this course? 
A: You don't need any special software or equipment for this course. Our students use all kinds of different methods: some are strictly digital, others are traditional artists, and lots are in between. Any method you want to use to create your illustrations is fine!
Q: It says the class is live, but can I still do it at my own pace?
A: Yes! There are lots of live elements in our live courses (live reviews, Facebook lives, etc),  but all of it is saved and made available in the classroom. You have access to all live course materials for six months after the end of the course. You do not have to be online at a particular time, unless you want to see the Facebook Lives or other live events while they are being broadcast. All live content will be saved and posted in the classrooms shortly after each live session, so you can watch each replay if you missed it, or even watch the video/live content multiple times if you'd like. Once the lessons are published in the live classes, you can revisit and complete the course content at your own pace.
Q: Does this course teach me how to illustrate my own children's book (i.e. one that I have written)?
A: Yes. The course is primarily focused on illustrating manuscripts by other authors, but we do cover the illustration of your own manuscript, and compare traditional publishing vs self-publishing routes. If you have still to write your children's book, be sure to check out our course, My Kid Book Pitch: Create a Children's Book Pitch Only You Can Write, which will help you come up with a memorable character and unique concept that an art director will love.
Q: Do I need to draw realistically?
A: You can draw in any style! This course embraces a multitude of styles including:
Traditional, realistic styles
Graphic, vector art styles
Kooky styles
Sophisticated, moody, painterly styles
Those that can draw realistically
Those that can draw quirky characters non-realistically
Remember, art directors are looking for a huge variety of styles to match with their author's manuscripts, so come as you are! There's room for everyone. Plus, your drawing skills will improve over the five weeks, and beyond.
Q: What if I can't draw people?
A: No problem! Some of the most amazing children's books don't even include illustrations of human characters – some books feature animals, made up creatures, and even anthropomorphized objects! Here's the key to a great character, whether it's a girl, a bird or a stick: it's about capturing personality.
We offer three different texts to work from, featuring different kinds of main characters, bearing in mind that some folks don't like to draw people. (That said, you'll learn some easy and effective techniques for drawing people – you may just surprise yourself.)
And by the way, Lilla has written a piece in the course that breaks down how easy it is to draw a character, with an easy trick to make your character look young.
If you'd like to increase your confidence around drawing faces, have a look at Lilla's mini self-paced course, Lilla's Art Recipes: Drawing Faces.
Q: What if I can draw people and have actually illustrated children's books? Will I learn anything new?
A: We promise that between Zoë and Lilla and all your new classmates, you'll be exposed to many different perspectives and have lots of light bulb moments. Plus, the reviews are real-time videos that discuss the work being done for class, so that's another opportunity to learn what both an agent and art director think about the work being done for the course. And of course, it's an amazing opportunity to get your work noticed by art agent Lilla, who is always looking to scoop up new talent from class (did you know that all 20 artists taken on by Lilla Rogers Studio since Make Art That Sells was founded in 2013 have been Make Art That Sells students?).
Q: Can I access Make Art That Sells courses from any device?  
A: Yes, you can access Make Art That Sells courses from any device once registered, but we strongly recommend viewing our courses on a desktop or laptop for the best user experience. We pack lots of information and visuals into our courses and they are best viewed on larger screens.
Q. Can I ask questions to Lilla and Zoë during the course?
A. Yes, you will be able to ask Lilla and Zoë anything you like during the five weeks of class. Don't forget to tune in for their Zoom Lives!
Q. Can I get feedback from Lilla and Zoë on my work?
A: Lilla and Zoë will view every single piece of work submitted to the private community area in response to the main weekly assignments. Each week they will pick several submissions to review, based on which offer the best learning opportunities for everyone in class. These reviews will be videoed and shared in class. Please note that we do not guarantee that your work will appear in the weekly review, and you will still learn a huge amount even if your art isn't featured.
Q. How hard is the course?
A: Lilla and Zoë are both gifted teachers and have broken down the assignments into clear steps to help you create great art without getting overwhelmed. However, please know that this course is aimed at working artists or those who are comfortable drawing.  It is not a beginner's art course.
Q. How much time will the class take?
A: The more time and energy you invest, the faster you will see results. The content varies from day to day but you will probably need around 20-30 minutes per day for the lessons, then an additional hour or two for the mini exercise and anything from 3-6 hours for the main weekly assignment, depending on how much effort you choose to put into it. It really is up to you. We encourage you to plan to spend at least six hours a week on the course (and hopefully more!), at whatever time suits you. There is a huge amount of information and inspiration packed into this course, and you should be prepared for an intensive learning experience!
Q. Does it matter what order I take the courses in?
Make Art That Sells courses can be taken in any order. You can take each course individually – or take them all to put a rocket under your creative career.
Q. How do I choose which course is right for me?
A: It really depends on what you are looking to learn.
If you want to know what art directors look for in the top ten art markets and how to go about creating work they might buy… you want Hot Markets for Your Art Part A and Part B.
If you want to know how to pitch ideas for entire product collections for the lucrative home décor market, to sell MORE of your work to each client, you want Creating Collections for Home Décor.
If you want to create a stunning children's book illustration pitch that includes everything an agent or art director will want to see, you want this course.
If you just want to have assignments to stretch you creatively and build your portfolio, you want Assignment Bootcamp: Portfolio.
If you want to create your own unique children's book pitch, you need My Kid Book Pitch.
Please note, if you want the opportunity to put questions to Lilla and have the possibility of having your work reviewed, you want to sign up for one of our live courses – in 2022. If you are happy just to have the chance to get your work featured in an online gallery and get support from your creative peers and have a smaller budget available, you want Assignment Bootcamp: Portfolio or Bootcamp Special: Character Play.
Q. How intense are the courses?
Q. I will be away for some of the time the class is running. Does this matter?
A: Illustrating Children's Books is an intensive class, so ideally you would want to check in at least weekly. However, you should be able to catch up if you are away for a week or less at a time. If you want to make the most of the opportunity to have Lilla and Zoë view and possibly critique your work, we would encourage you to schedule in time to complete the weekly assignments within the week they are assigned. (Assignments are given on Wednesdays for submission by Sunday of the same week.)
Q. Do I need any special materials?
A: The course looks at art using a variety of media. We really encourage you to try new things, so it is up to you. Just get out your favorite art supplies! You will need a computer to view the course and a scanner or phone to take a photo of your art so you can upload it to the class gallery (optional).
Q. Do I need any special software?
A: As with the other MATS courses, it is possible to complete the entire  course using traditional techniques (painting, drawing, etc.) but if you wish to complete and submit the assignments digitally you will need at least a basic knowledge of Photoshop and/or Illustrator. You will need to be able to scan in or photograph your assignments if you want to upload them to the gallery or share in the Facebook group.
Please note this is not a Photoshop/Illustrator instruction class. If you want to get more familiar with these programmes before starting the class we would recommend Skillshare or The Art and Business of Surface Pattern Design.
Q. I am not a digital artist. Is this course for me?
A: All of the assignments given in the course are suitable for both traditional and digital artists to interpret in their own way.
Q. Will I be able to communicate with others in the class?
Yes, you will be able to communicate via the private Facebook group provided (where you can also share images of your work). This will be a great chance to connect with other artists and designers, get different perspectives and share your work.
Q. Will the class material be available after the class has ended?
A: Yes, you will have access to the classroom for six months after the class has ended. The written class content can be downloaded from class. The Facebook group will remain available to you indefinitely.
Q. Is this an art class or a business class?
A: It is both, but it is not a basic technique class. The course focuses on giving you the insider view on what you need to do when creating your art to make it more commercially viable while still being uniquely YOU. It includes a weekly assignment and additional mini creative exercises, so there is a strong creative element to it, but it also looks at the industry in-depth and gives business insight there. The goal is to create a portfolio piece every week.
Q. When is the class?
A: May 23 – June 27, 2022.
Q. How much is it and how do I register?
A: Illustrating Children's Books is £399, which is approximately USD $521. Please note this approximate $ equivalent is given for reference only. When paying by Paypal, you will be charged in your local currency at the prevailing Paypal exchange rate.
Depending on your country of residence you may also be charged sales tax on checkout. This will automatically be calculated when you register.
Click "Add to cart" to register. If a course is not yet on sale, join the waiting list and we will be in touch to let you know when the course is on sale. Please note that joining the waiting list does not guarantee or oblige you to take a place on the course.
Q. I see the prices are given in GBP (British pounds). Can I pay in another currency?
A: Yes, Paypal accepts most currencies. All class fees are charged in GBP (British pounds), and this will be the amount which shows up in your Paypal transaction, but you will automatically be charged in your local currency at the prevailing Paypal exchange rate valid at the point you sign up – so if you have a USD$ bank account the funds will be removed in USD$.
Q. What payment methods do you accept?
We process all our payments with Paypal, a safe and secure way of sending money online. If you do not have a Paypal account you can sign in as a Paypal guest and pay via credit or debit card. All class fees are in GBP (British pounds) but you will automatically be charged in your local currency at the prevailing Paypal exchange rate valid at the point you sign up.
Q. I don't live in the USA. Is this course relevant for me?
A: Lilla Rogers represents artists internationally and has clients worldwide. Although the main buyers for art in the markets covered are in the US, much of the content is relevant for you wherever in the world you are, especially if you are interested in selling your work internationally. And because everything is made available to you online, it does not matter what time zone you are in.
Q. How is this course different from Lilla's book?
A: Lilla's book 'I Just Like To Make Things' is a fantastic resource and is highly recommended as a companion to the e-course. Being spiral bound you can draw and journal in it. Full of annotated visuals, it provides insights into a variety of art and craft markets. However, this course goes into much more depth about exactly what art directors are looking for when looking for children's book illustrators and takes you step-by-step through building a strong pitch to showcase your work. It also provides new and exclusive interviews with key market experts and gives you the opportunity to get your art in front of Lilla as well as become part of a community. Perhaps most importantly you have the chance to put your questions to Lilla and Zoë when the course is live.
Q. How is this course different to a college course?
A: As an art agent and art director respectively, Lilla and Zoë see exactly what art sells and what doesn't sell, and know what clients are looking for and how to present work to them. The course is based on many years of experience in the industry, and a clear understanding of where the gaps are.
As an online course, you can 'attend' from the comfort of your own home or studio, anywhere in the world, and the private classroom is open 24/7 so you can make it work around your life.

LILLA ROGERS, Founder, LILLA ROGERS STUDIO
Lilla is one of the most successful illustration agents in the in the world, managing the careers of over 35 high-caliber artists whose works you've undoubtedly seen in children's books, magazines, greeting cards, and on scads of deliciously designed goods from bed linens and tote bags to journals and wall art. Lilla has sold art for products and ad campaigns worth over $200 million, and has clients all over the globe. Find out more about Lilla here.
ZOË TUCKER, children's book ART DIRECTOR and author
Zoë Tucker has worked in children's book publishing for nearly two decades, starting with Random House, and working across the list from baby books right up to Young Adult. Her books have won numerous awards and she has worked with Penguin UK (Puffin Imprint), and Scholastic UK (Alison Green imprint). She has also recently published two children's picture books, both of which she wrote as texts for this course.
In the last decade, Zoë has worked closely with award-winning publisher Alison Green to deliver some of the best-loved children's books on the market, from some of the most talented illustrators working today.
Zoë is now a freelance art director and consultant for production and animation companies including Magic Light (who made the Gruffalo and Stick Man animations) and Dog Ears Ltd. She also designs and art directs for Hodder and Quarto, and consults for the highly original 'Lost My Name' which was featured on Dragon's Den and hails a new type of personalised book publishing.
Zoë says, "It's hard to pinpoint one book in particular that I'm most proud of working on, because I've worked on so many! It's a huge privilege to work with Axel Scheffler, and to be the art director on his books with Julia Donaldson. Their award-winning books are loved the world over and it's nice to know that I'm part of that creative process, and inspiring young children (including Prince George and Princess Charlotte!). 
I'm also really inspired when I work with brand new artists, people like Lizzy Stewart and Nick Frith. Watching them grow and develop through the process of making a picture book is always a pleasure – plus they're both super hip and contemporary!
Helen Stephens is my hero! Her work is beautiful, straddling a modern world with a nostalgic style. She has a good sense of humour and an amazing work ethic and most of all she challenges me all the time. She responds to my comments but always pulls a blinder with something better!
During my time with Puffin books I worked on many of Roald Dahl picture books and treasuries. This gave me the chance to commission Quentin Blake –  a treat! I also worked very closely with Jan Pienkowski too, who is most known for his Meg and Mog series. I grew up with these books, so having the opportunity to hang out with the man himself was fun. I used to go to his house every Tuesday afternoon for lunch and a bit of time working on new projects. He's had an amazing career and taught me a lot. Plus he had fabulous chickens in the garden, big bantam hens with fluffy trousers."
Co-teacher Zoë Tucker is the author of two picture books, both published in 2019 and both of which were originally written as class texts.  Ada and the Number-Crunching Machine was illustrated by a MATS student after she showed work done in class to a publisher.
In September 2019, Zoë's first book,
Ada and the Number Crunching Machine
 was published by  NorthSouth Books.  Zoë wrote the text for Illustrating Children's Books, and one of our students, Rachel Katstaller, took the work that she did in class to the Bologna Children's Book Fair, where it was picked up by the publisher:
read more here
.
Zoë's second book, 
Greta and the Giants
,  also based on a text she wrote for class, was published in November 2019.
Full page spread by student Sheila Keegan.
This course is a complete game changer. It will set you apart from other artists, teaching you how to pitch sophisticated and professional presentations that will capture the attention of children's book art directors. Here's why you should take the course.
MATS: Illustrating Children's Books is for you if…
You love the children's book illustration market and would love to illustrate your own children's book
You are serious about building your art career and ready to make professional presentations to top clients
You really, really want an intensive course that is going to teach you a massive amount, inspire you, and help you grow to your fullest
You have never illustrated children's books before and want to learn everything you can.
You are an established children's book illustrator and want to push your style to the next level with motivating art assignments
You are already a working artist and are looking to expand your income potential in a new market
You would describe yourself as an artist, illustrator, painter, mixed media artist, graphic designer, surface pattern designer, fabric designer or just someone who loves to draw
You want to learn more about growing your art business and marketing your work
You want to know how to pitch your work to give it the greatest chance of selling to a book publisher
You are willing to listen to advice and act on it
You have a basic knowledge of Photoshop and/or Illustrator
You are ready to invest time and energy into your creative career
You are prepared to push yourself outside of your creative comfort zone
You struggle with procrastination and want the structure and deadlines of a live course
You like the fun and energy of live e-courses and the motivation it gives you
You want to be part of a supportive creative community of fellow artists and designers
*Please note this course is a fantastic follow-up from MATS A/B/Bootcamp/Creating Collections for Home Décor, but they are not pre-requisites. The MATS courses can be taken in any order.
This is not for you if…
You are a complete beginner or are looking for strictly an art technique class. There are hundreds of fabulous creative courses out there – please have fun exploring and then come back to us when you are ready!
You are looking for technical tutorials in Photoshop and/or Illustrator
You are fixated on one medium/way of doing things and are not willing to grow
You are not interested in learning from others or receiving supportive feedback
We are so proud of our alumni and below are just a few success stories from those who have taken our 'Illustrating Children's Books' class.
Annabel Tempest
Annabel took our very first 'Illustrating Children's Books' class and since then has illustrated three BabyLit Books published by Gibbs Smith. 'Pride and Prejudice' and 'Moby Dick' (above) were just released and the third book, 'The Jungle' book, is next.
Annabel writes: The reason I took MATS courses was in order to build my portfolio to a point where an agent would take me on. It worked! I'm delighted to say that I was taken on by Vicki Willden-Lebrecht's agency 'Bright'
Read Annabel's Alumni Success interview here.
***
Mateja Lukezic
Mateja received a gig to illustrate five books with a publisher in the UK because of the work she did in the Illustrating Children's Books class.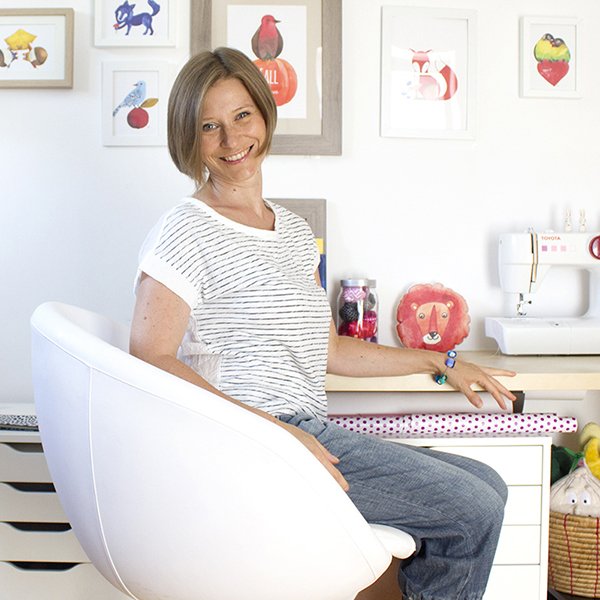 Mateja writes: The content from the Illustrating Children's Books class was incredibly valuable. It made me confident to take my portfolio to a Children's book fair and show it to publishers which led me to my first book. I just finished the first book "I am a Bee" of the five books from a series of animals. Now, I'm working on a second one, which will be about lions.
Read Mateja's Alumni Success interview here.
***
Nikki Upsher
Nikki took our very first 'Illustrating Children's Books' class and was talent-spotted by a creative manager when she posted work online! Nikki was invited to illustrate a 95-page book for American Girl (Mattel).
Nikki writes: I did some test girl characters for American Girl and then worked with an art director doing sketches for the book and once this was approved I worked digitally to add color and pattern work. The book was published June 2017.
Read Nikki's Alumni Success interview here.
***
Lisa Larsen
Lisa got her children's book illustration work as a direct result of the work she did in MATS. Lisa has also worked on two adult coloring books for Kalmbach Publishing and has a coloring book travel series.
Lisa writes: These courses are not just an "art class". They truly help launch your career as an illustrator and designer. Thank you Lilla Rogers for your amazing inspiration and wonderful courses that push us out of our comfort zones!
Read Lisa's Alumni Success interview here. 
***
Alexandra Thompson
Alexandra
was awarded the mentorship award by the Society of Children's Book Writers and Illustrators (SCBWI)
Alexandra writes: I took the first round of Illustrating Children's Books, and my illustrations really helped to strengthen my body of work. I learned so much from the course and it helped me put together a solid portfolio. I'm so glad I took the course! It gave me confidence to join SCBWI and attend my first conference – an incredible experience.
Read Alexandra's Alumni Success interview 
here.
***
Wendy Leach
Wendy has taken two sessions of our 'Illustrating Children's Books' class and told us that one of her assignments got her featured as the illustrator of the month on the society of children's book writers and illustrators website!
***
By registering for any of the Make Art That Sells classes, please be aware you are agreeing to the following Terms & Conditions:
You acknowledge that your work will only get viewed by Lilla in Illustrating Children's Books if you submit it as directed by the Sunday of each week when the class is live. You also acknowledge that although Lilla will view every piece of work submitted and provide general feedback to class, only a handful of pieces will be chosen each week for specific critique (which will be shared with the class), and there is no guarantee that you will receive personal critique from Lilla during the course.
If you submit any work in class and it is selected for review, you give permission for that critique (including your images) to be shared with the rest of the class in any format.
You agree that Make Art That Sells may give permission to select art directors to view the finished works submitted for critique in any MATS class. Should they be interested in working with you, Make Art That Sells will put you in contact and you can continue your discussions directly.
You give permission for Make Art That Sells to use any images you submit for critique in any class or share in the class community area, to be included in any future class-related marketing or promotional strategies, online or offline. You will always be credited and will retain the rights to your work.
You agree to the class Ground Rules which are as follows: (i) Stay open (ii) Be positive (iii) No negative critique of others (iv) No excuses are necessary. If you miss a deadline for submitting your assignment that is fine, but the entire class does not need to know the reasons for that.
You acknowledge that Make Art That Sells reserves the right to delete any inappropriate comments in the classroom or any of the class-related community spaces, in order to provide and maintain a supportive classroom environment.
You confirm that you are purchasing a single license for this course for your individual use only. To enquire about educational/corporate rates (for official groups of 10 or more) please send an email to [email protected]
You acknowledge that Lilla Rogers Studio reserves the right to replace any advertised content with alternative content of an equivalent value without notice
You acknowledge that all sales are final and no refunds will be given before, during or after class.
You acknowledge that, if paying in installments, no part-payments will be refunded should you cancel your place before class begins.
All courses are priced in GBP £. Any approximate $ equivalents given are for reference only. When paying by Paypal, you will be charged in your local currency at the prevailing Paypal exchange rate.
You give permission for your email address to be added to the mailing lists of Lilla Rogers Studio and Do What You Love. You can unsubscribe at any time.
Privacy Policy
We do not store credit card details nor do we share customer details with any 3rd parties.
Delivery Policy
All our courses are delivered online in password-protected classrooms. We do not deliver physical products in the post, but rather send you an email with the URL of the classroom and the password you need to log in. This email is sent to the email address you used to register for the class, and will be sent at least two days prior to the start of class (except where you register with less than 48 hours to go, in which case it will be sent within 48 hours of registering, which may be after the class has begun). If you do not receive your classroom login information within this time frame please contact us via email to [email protected] so our team can assist you.
You can view our full detailed terms & conditions here: https://makeartthatsells.com/terms-conditions/
Make Art That Sells, 2021