Meet Helen Stephens
Today, we have an interview with children's book illustrator Helen Stephens, who calls herself an authorstrator: an author who writes with pictures and adds words in where needed.
Helen drawing
Helen has been creating children's books for over 17 years and she is known for her bright, instantly recognisable illustrations.
As well as illustrating for authors like Michael Morpurgo, Cécile Aubry, Sophie Hannah, Holly Webb and Roger McGough, Helen writes her own stories. These include Fleabag, The Night Iceberg, The Big Adventures of the Smalls, the Betsy toddler series, and How to Hide a Lion, which has sold in 14 languages, been nominated for The Kate Greenaway Medal and The Redhouse Book Awards and won the Prix Livrentete. It is now being developed for stage at The Polka Theatre in Wimbledon, where it will be shown this Christmas.
The most recent additions to Helen's ever-expanding portfolio include Baby I Love You, Gracie Grabbit and the Tiger, How to Hide a Lion from Grandma, and released earlier this September, How to Hide a Lion at School. We're delighted to talk to Helen to find out more about how she's living a truly creative life doing what she loves. ~ Rachel
Baby I Love You
1. How are you doing what you love?

I write and illustrate picture books, I draw live for huge crowds of children at book festivals, and to relax I walk my dog Peggy on the beach. For me, this is the ideal job.
2. When did you realise that you wanted to spend your life drawing?
When I was about four years old, I announced to my parents that I was going to go to art school. I never wavered from that certainty, it's all I wanted to do. When I was nineteen I got a place at Glasgow School of Art, where I decided to study illustration.
Image from How to Hide a Lion at School
3. How did you turn your dream into reality?
When I left art school I was lost for a while. I had my 'people' at art school, I felt I belonged. It was a huge shock to leave, I didn't know what I was going to do, how I was going to make a living, it was a very difficult time. All I knew for certain was that I wanted to draw for a living. So I took tiny steps, one at a time, hoping I was heading in the right direction. I moved to London, where the big publishers were, and got a part time job in a bookshop to pay the rent. I took on small illustration jobs when they came along, and turned down offers of full-time work in the bookshop because I knew that would hold me back.
Bit by bit I found my way, one illustration job led to another, and another, and another. One day I was visiting a publisher to talk about illustrating a book, when they asked if I would write my own text, so I did! I've been happily writing and illustrating picture books ever since.
Image from How to Hide a Lion at School
4. What have been your biggest highlights and 'proud-ofs' since then?
I am proud that I stuck at it in those early days and ignored all the knock backs and difficult times. I am also proud that I still make time to draw for fun. Sketchbook drawing is hugely valuable, and often leads to new book ideas.
Helen and Gerry with daughter, Frieda. Photo by Kristy Noble and styled by Hannah Bullivant
5. Your partner, Gerry Turley is also an illustrator. How does your art influence your way of life together?
I met Gerry at Glasgow Art School, where we were both studying illustration and our workspaces were side by side. We still share a studio space now. I like having Gerry around, we are used to each other's habits and it works really well.
Helen and Gerry work together in their home studio. Photo by Kristy Noble and styled by Hannah Bullivant
In terms of how we live, we are lucky to work from home. We shake off deadline stress by walking on the beach every day with our dog Peggy and we collect all sorts of sea treasures. We use old sun bleached plastic fishing crates as plant pots, we collect wood for the fire, and we have recently started to collect sea-worn red house bricks which we'll use to make a garden path.
Studio space. Photo by Kristy Noble and styled by Hannah Bullivant
We have a rule: if we need anything for the house we either make it, or buy it second hand. Gerry studied Natural History Illustration, and he has always liked natural forms and materials. I love colour and vintage furniture, so our house is a big mix of both of these influences.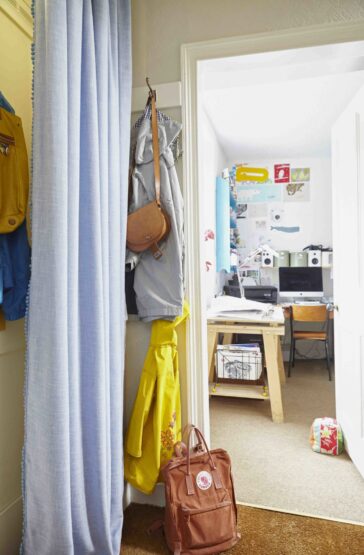 Helen's hallway
6. You love a story and that's partly what drew you to your house in Berwick-Upon-Tweed, Northumberland. What's the history behind it?
Our home looks like a child's drawing of a house, a door in the middle and a window in each corner. There are four main rooms, two up, two down. When the house was built each room housed a fishing family, they each had a range to cook on and a shared toilet in the back yard. In the 1960's the fishing flats were converted into a house and an extension was built.
Heart of the home: Helen's lounge with wood burning stove
When we moved into the house six years ago it was very sad and neglected, we are gradually bringing it back to life. We are opening up all old fireplaces, taking the 1970's panels off the doors to reveal the original victorian ones underneath. The thing that has changed the house most, and given it a real heart, was putting in a wood burning stove, the whole house feels warmer. One of my favourite features is the victorian privy (outside toilet), so useful in the summer when we have lots of visitors.
There is also an old outbuilding in the garden that we will eventually convert into a studio space. At the moment we share a workroom in the house. We like sharing a space, but we are bursting at the seams!
Helen's desk. Photo by Kristy Noble and styled by Hannah Bullivant
7. Talk us through a typical day in your life…
We get up, eat some breakfast together, then one of us takes our little girl to school, while the other starts work. We are both usually at our desks by 9.15am (ignoring any housework jobs, those wait until the evening). The six hours Frieda is at school are extremely precious work time, we try to squeeze all of our work into those hours. Later we pick up Frieda, and take our dog, Peggy, to the beach for her daily run, then one of us goes back to work while the other prepares a meal. That is pretty much our usual day.
If one of us is promoting a book, we might be away from home for a few days, visiting schools or book festivals, but we try to do this as a family as much as we can. We also travel to research new books, we went to Venice and Switzerland recently, Frieda comes with us and we get huge enjoyment out of these family drawing trips.
The family by Frieda
8. Where do you find your inspiration for new stories and characters? And how do you keep on top of all your thoughts and ideas?
I like to draw from life as much as I can. I keep sketchbooks where I write notes and ideas. We also collect books on our travels, and vintage picture books. They are a huge source of inspiration.
Work in progress: Helen's sketchbooks (above and below)
9. Talk us through the process of illustrating a book; how does it go from an idea in your head to a finished work of art on sale in bookstores?
It usually takes about nine months to develop an idea into a book:
It starts with an idea, often this might be an image, or a character name, or just a title.
I sketch out a plot using thumbnail sketches, refining the idea on each new draft.
Then make a mini dummy book to check that the page turns are in the right place. I might do this 5 or 6 times, until everything is just right.
Next I make full sized rough drawings.
After the publisher has given me their thoughts, I start the artwork. I like to make a kind of 'nest' at my desk, Peggy at my feet, art materials all around me, podcasts on my headphones. I hibernate a bit while I do the artwork, only taking Frieda to school, and Peggy for her walk. It usually takes about four months.
Then, when the book is published I visit lots of schools and book festivals where I become social again, meeting lots of children and being generally being silly.
Image from Helen's book, The Night Iceberg
10. Why is it vital to be courageous and true to yourself if you want to succeed as an artist?
In the early days of being published I found I was taking advice from art directors, and altering my work to suit what they were asking for. After a while I felt my work was no longer my own. It didn't look like the work I did in my sketchbooks, or at art school, and it didn't feel authentic anymore. So I took a year out and went back to drawing in sketchbooks. It felt like a big risk because my published work was successful, and I didn't know whether publishers would still want to publish me if my work changed. But they did, and I feel very happy that I took that risk. The books I have done since that period have become my most successful books. I think if you are feeling happy and inspired, and are true to yourself, it shows in the work.
11. What are you working on at the moment?
I have lots of pots on the boil. A Christmas book, a book of Fairy Tales, another in the How to Hide a Lion series, a book about naughty kittens, and a longer novel. I've never written for older children before, so this will be a challenge. But I like a challenge, I always like to take on new projects that are unlike stuff I've done before, it's exciting, I get a kick out of learning new stuff.
I am also a big fan of Instagram and try to post every day (I am 'helenstephenslion'). It feels like the ideal social media for me. I like how you can arrange your feed, a bit like creating a picture book: A close up, then a long shot, then maybe a dark picture followed by a light one… But I do get tired of all the posed pictures of perfect lives, and I try to show my messy work space just as it is, toilet rolls (for dabbing wet brushes) and all. I also like to show some of my work process, rough drawings, dummy books and sketchbooks. I like all that behind the scenes stuff.
12. What do the words 'creativity', 'success' and 'freedom' mean to you?
All good words! If you love doing something, you should make it your job. I have found that living on my creativity alone has been hugely rewarding, I have been able to carve out a 'Helen' shaped job. I feel very lucky.
Older work: Pages from Poochie-poo – Helen's funny and charming story about two doggie friends who constantly try to impress each other
13. What's your ultimate dream?
I'd like exactly what I have now, but with a bigger work space. Oh, if we are talking ULTIMATE dreams, I might have a second home in London so that I have somewhere to stay when I'm visiting my publishers or having a city top-up. Oh, and what about some sort of magic potion that stops Peggy rolling in smelly dead things on the beach?
Cover of Fleabag
14. What careers' advice will you give your daughter, Frieda, as she grows up?
To do what she loves, whatever that is. She might not be an artist, she once told us she was going to be a doctor, and we'd have to make an appointment if we wanted to see her!
See more of Helen and her work here: Website |  Facebook | Instagram
Credited images were taken by Kirsty Noble (website and Instagram) and styled by Hannah Bullivant (website and Instagram).
***
Do you dream of illustrating a children's book?
Join us for our new class 'Illustrating Children's Books' starting on Monday October 3rd.
In five weeks, you'll create a brilliant children's book pitch to help you land your dream children's book gig.
Save