17.52017
---
Lilla Rogers Studio is preparing for Surtex, the big art licensing trade show, taking place in New York City next week.
Trade shows are wonderful for meeting art directors from the top markets: Bolt Fabric; Home Décor; Wall Décor; Gift; Paper; Baby Apparel; Scrapbooking; Party Paper. Learn everything you need to know about these art-hungry markets in our MATS A and B  classes here.
One of the coolest things about our e-courses is that students make great connections with each other and form collectives. Then, they can split the costs of a booth. We love to see this happen!
Here's our booth and some photos from Surtex last year.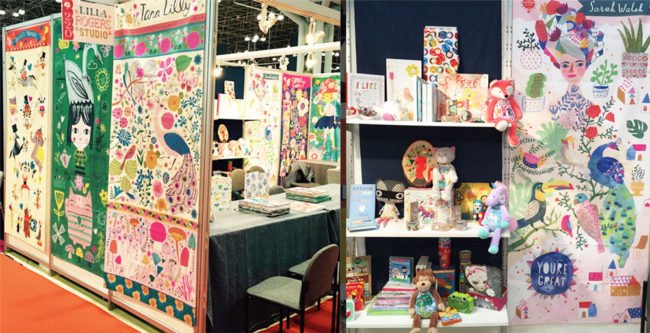 Products by our artists at the LRS Booth
Senior Agent Susan McCabe, artist Helen Dardik, Lilla Rogers, artist Carolyn Gavin, Reine Sloan, Agent Joanne Hus and artist Flora Waycott
We love it because a ton of our artists come to see us, see each other, walk the show and have a ton of fun.
Visit us at Booth 2810 this year! Art by Sarah Walsh
Super exciting news! Reine and Natasha will be interviewing artists and art directors at Surtex on Facebook Live! Like our page on Lilla Rogers Studio on Facebook to receive notifications for when we go live.
Stay tuned on Instagram for up-to-the-minute information.
Are you thinking of exhibiting at a Trade show in the future?
Another up and coming show is Blueprint, which is held in New York at the same time as Surtex, and is offered at a very affordable price. It's becoming a really popular show, attracting some great artists and art directors.
Whichever show you do (and shows are not essential, by the way!), you'll want to ask yourself these questions before you take the plunge:
Are you ready to mingle and make connections with your tribe? From important Art Directors to fellow artists?
Have you sold or licensed some art already or have you gotten positive feedback on your work from art directors?
Is your portfolio show ready? This is your time to shine.
Do you have a minimum of 20 – 50 images of outstanding work with varied subjects?
Have you done your homework on what is hot in the market right now and what Art Directors are looking for?
Do you have the time carved out on your calendar after the show is over to follow up with your new contacts and opportunities?
Do you have business cards on hand and ready to pass out?
Is your website ready to handle traffic? Is the navigation easy and is the vibe reflective of your style?
Do you have money to invest in the cost of the booth, travel, hotel, meals, booth stuff, etc?
Like with any new endeavor, you might be a bit nervous about taking this leap of faith but being prepared will ensure you're ready for the show and will get the most out of Surtex or another industry trade show.
Surtex fun! Giveaways, henna and photo booth.
If you have not yet taken our MATS A and MATS B classes, they are absolutely the right place for helping you make spot-on pieces that sell. You can get started now with instant access. Find out more about our classes here.
Check out this free info sheet for lots more top tips.
If you have any additional questions for me, why not sign up for our Home Decor class or the Illustrating Children's Book class where you will have the opportunity to ask me anything in the weekly Q&A! Or join MATS A and MATS B for the Live Review and you can put your questions to me in the Facebook Live video in June!
Are you exhibiting at Surtex or are a regular exhibitor at tradeshows?
If so, we would love to feature you in a future blog post or newsletter with your tips about preparing and showing your work at a trade show. Reply to this email to let us know you are interested in being featured and we will give you all the details!
Lilla and the Make Art That Sells team!