We are so proud of our Make Art That Sells Alumni, and we are pleased to feature a series of spotlight interviews showcasing their successes and artwork. We've asked them to share how the MATS courses have helped them learn and grow. You can see more Alumni Success stories here
***
Today, we have an interview with Mateja Lukezic from Mima illustration​ who has taken our Illustrating Children's Books class.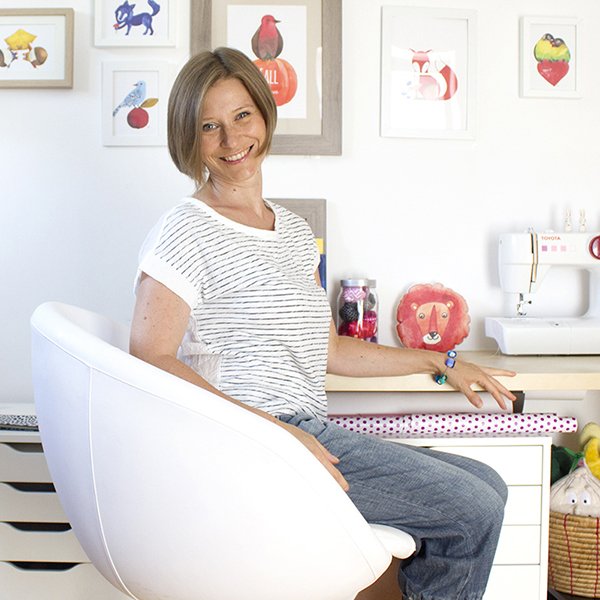 Tell us a little about how you got started in art and design
I was working for seven years as a graphic designer in a big company. When I came back to work after the birth of my second child I felt something was missing. I couldn't be creative in the way I wanted. I decided to leave my job, which was not an easy decision and go to college. I obtained a degree for Scenography and Animation. I was invited to make illustrations for puppets at the Ljubljana Puppet Theatre, which in the end lead me to the place where I'm today. Through this I found my passion for illustration again.
Lilla always says "People buy your joy." What brings you joy?'
Nature and animals bring me joy. They're also the ones I love to illustrate the most. I get inspired in a daily walk with my dog through the woods where I can enjoy peaceful moments.
Which is your favorite market(s) to design for and why?
Illustrating for children's books is my favorite. I have been surrounded by my own kids half of my life which I think had impacted me the most. I love working on characters, playing with variety of expressions.
What are you working on currently?
I just finished the first book "I am a Bee" of the five books from a series of animals. Now, I'm working on a second one, which will be about lions.
What are some of the key things you have learnt from the MATS experience?
There are so many things I have learnt, but most of all I appreciated the inside information on how the children's book industry works. I learnt how to approach a publisher, an art director and how to build a strong portfolio, which is crucial especially when you're in the beginning. And the most of all, how to work with a text when you are illustrating it.
How have the classes helped your artwork evolve /grow?
The content from the Illustrating Children's Books class was incredibly valuable. I grew through the learning process which made me confident to take my portfolio to a Children's book fair and show it to publishers which lead me to my first book.
Any aha moments during MATS you would like to share?
Be kind to yourself. No matter how talented you are you can't succeed if you are putting yourself down
What are your key successes since taking a MATS class?
I would say again, be kind to yourself. Embrace every stage you are and imagine that you only can be better. Don't be affraid to show your work. Book fair is one of the great place where you can get a portfolio review from different publishers and find the right market for you.
How would you describe taking a MATS class to a fellow artist looking to develop their art
Taking a MATS Class is the best place where you can get everything you need, from start to end. It opens you a new dimension and you can see things from a new perspective. I would do it all over again!
What is your dream gig for your artwork?
I have a dream to make my own book. I already have a theme and main character.
See more work here: Website | Instagram | Facebook
***
Do you dream of illustrating a children's book? Would you love to create a magical world with characters that you've designed? Do you love the magic of children's books and feel that you have something to offer? Then this course is for you.